Nurses and Flying Fish: The Impact of Culture on Healthcare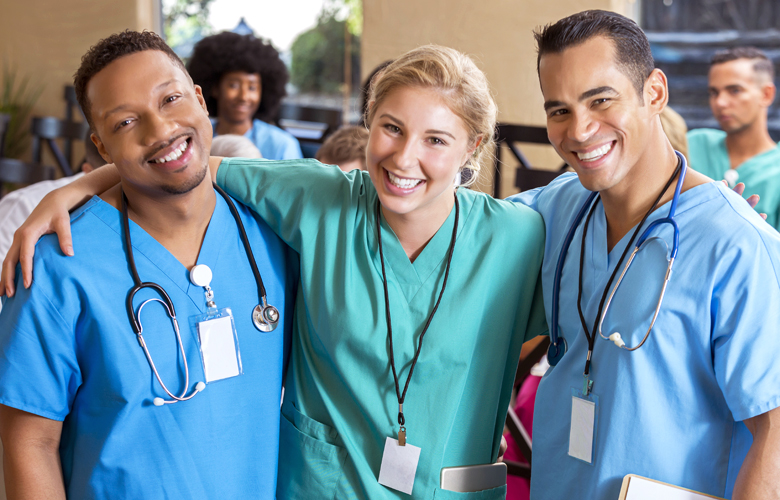 "Was that a stuffed fish flying through the air?" Todd Wilkins couldn't believe what he was seeing.
Todd was in Children's Memorial Hospital (now Lurie Children's Hospital) in Chicago with his four-year-old son, Michael, who was being treated for neuroblastoma, a childhood cancer.
While watching Michael on the overnight shift, Todd, who usually was a confident person, began to feel nervous and unprepared.
As Michael slept, Todd left the room to ask the nurses a question. He turned the corner and saw a nurse toss a stuffed Pete the Perch to another coworker.
"What are you doing?" he asked.
The head nurse quickly turned all her attention to Todd. "We're training," she explained with a gentle smile.
"How do you train with a fish?"
"We're learning about The FISH! Philosophy. It's a way to remember how to always be focused on our patients and families."
Todd's confusion shifted into curiosity. "OK, so how does that work?"
"The FISH! Philosophy has four parts," the nurse said. "We always want to Be There for our patients in whatever way they need us. We know our patients and families are fearful and uncertain, and we want to find ways to Make Their Day. We want to bring joy and fun to our kids whenever we can—that's called Play.
The nurse continued, "The last one is Choose Your Attitude. Working in pediatric oncology can be intense. When we're worn down, it can be easy to struggle with our attitudes. But whatever we're going through is nothing compared to what these kids are facing. We want to choose attitudes that help us be the best we can be for them."
The nurse saw Todd was intrigued, but didn't want to overwhelm him, so she said "We'll be happy to share more with you tomorrow. But for now, it looks like you had a question for us. Let's take care of you."
A New Approach to Healthcare Organizational Culture and Values
Over the next few days, Todd learned more about FISH! The nurses showed him the FISH! Video, and Todd watched as the staff interacted with patients and families.
"I started to see the impact of culture on healthcare," he recalls. "The nurses were always great, but they became even more focused and comforting. One of our nurses, Carrie Dausmen, was really awesome! And I noticed that the doctors walked into the room differently. They listened more attentively, and they made us feel completely cared for and put us and Michael at ease."
As a business owner, Todd was intrigued by this type of healthcare leadership. He knew he needed to make his own customers and employees feel valued in the same way, but sometimes he struggled. "I didn't always relate well to people, especially when they came to me with problems," he admitted. "I didn't understand how my attitude affected my ability to Be There for them."
"The FISH! Philosophy made me look hard at myself. I learned leadership is not just about having energy and drive, it's about connecting and caring."
Overcoming Life's Greatest Challenge with FISH!
Two years later, despite the best efforts of his doctors and nurses, Michael died. He was six years old. Todd and his family were devastated.
Todd says he struggled with depression because, ironically, he was trying to be positive. "I didn't really mourn the loss of my son for a while. I was masking reality."
He says the practice of Choose Your Attitude helped him face his pain, not ignore it, and make a conscious choice of how he wanted to move forward.
"FISH! saved my life," he says. "It gave me a foundation. It helped me to stay aware of how I wanted to live."
Todd began to start each day with what he calls his 'pre-flight checklist."
Wake up

Choose my attitude

Think about whose day I'm going to make

Think about how to be playful

Think about being there for my family, my team, and my community.
Passing the FISH! from Healthcare to Business Leadership
Throughout his career, Todd has made FISH! an essential part of how he approaches every part of his life, from leadership in business to his personal responsibilities: "I use it for coaching baseball. It's important for kids to understand when the game gets tough, the only thing you can control is you."
Years after first seeing Pete the Perch flying through the air, he uses the same stuffed fish like a talking stick in meetings: "We pass the fish back and forth," he says. "It reminds us no matter how tough the conversation, we share values. We're going to Be There for one another. We're going to choose our attitudes. It's going to be safe for everyone. Listening well helps us take an issue that might cause misunderstanding and find a solution.
"I'm so glad I learned The FISH! Philosophy from those nurses. It's made me a better leader, a healthier person."
How Can I Improve My Leadership Skills?
Few of us will face the tragedy that Todd experienced. But we can still use what he learned and saw as the impact of culture on healthcare to deal with our trials, large and small. Ask yourself these questions:
What situations are most likely to challenge my attitude this year? If I can't change them, what response will help me deal with them more successfully?

Who around me might be struggling, too? How can I Be There for them? What might I do to lift their spirits?

When I'm feeling down or stressed, where can I find joy and laughter? Who can I share it with?
---
Improving Your Culture with FISH!
Whether you work in the healthcare, business, or education industry, FISH! offers simple, effective solutions to empower your team, engage your workers, and inspire genuine customer service and care. 
We invite you to contact us today at 800.695.4534 or info@charthouse.com to speak with our cultural specialists, who will help you find the right FISH! Philosophy solutions that will nurture your organizational culture and motivate your team!
Share This Story, Choose Your Platform!