Imagine a workplace where everyone chooses to bring energy, passion, and a positive attitude to the job every day. Imagine an environment in which people are truly connected to their work, their colleagues, and their customers.
Fish! helps you create this culture – the proof is in the numbers!
In this best-selling classic, a manager is charged with turning an unenthusiastic, unhelpful department into an effective team. Across the street from her office is Seattle's Pike Place Fish Market, world famous and wildly successful thanks to its joyful atmosphere and attentive customer service.
By applying simple lessons from the fishmongers—Play, Make Their Day, Be There, Choose Your Attitude—the manager ignites an astonishing transformation in her team. Managers everywhere can use these practices, called The FISH! Philosophy, to increase engagement, strengthen teamwork and trust, reduce burnout, boost motivation and improve retention.
The wisdom of FISH! is easy to grasp and instantly applicable to any individual or organization. The book, based on a bestselling ChartHouse Learning training video, has sold more than 6 million copies and inspired people and companies around the world such as Southwest Airlines, Sprint, and Nordstrom.
No matter where you work, FISH! is about rediscovering the amazing power inside each of us to make a positive difference wherever we are in life.
Nearly everyone wants to make a positive impact, yet polls show the vast majority of people around the world are NOT engaged in their work. That is a tragedy, for life is too precious to spend so much of it wishing you were someplace else.
Organizations around the world use its practical lessons to improve customer service, build trust and teamwork, strengthen leadership, and increase employee satisfaction. Many people also take these lessons home to strengthen relationships with family and friends
What are the experts saying about Fish!?
"Employees smile because they "want" to not because they "have" to and the pride that derives from that very simple fact makes the rerelease of the FISH! book a "must read" for your own self-improvement gift to yourself!"
"I guarantee that every manager will benefit from FISH! (the book) because it will not only increase employee retention, it will motivate people to take pride in what they do."
"(The authors) know the right formula for teaching principles that improve conditions in the workplace: tell a good story! FISH! is perfectly suited for teaching four powerful principles that form the bedrock of a successful company. I recommend their book to anyone, on any level, who wants to make a difference at work."
Want to transform your entire team? Take your FISH! experience to the next level with the FISH! Book Study Kit!
FISH! the book has helped people around the world rediscover their passion. It's the perfect complement to FISH! the video. It personalizes the lessons of the video, helping people see how The FISH! Philosophy starts with their choices. It's a quick read with easy-to-apply ideas that quickly improve teamwork, accountability, customer service and employee retention.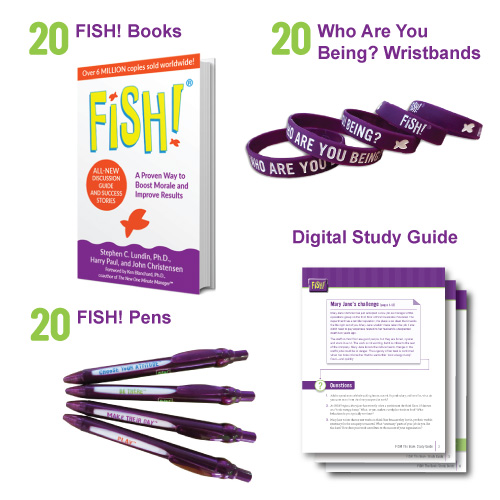 The FISH! Book Study Kit combines several tools to help your team put The FISH! Philosophy into action. It includes:
20 FISH! books, newly revised and re-energized.
A digital study guide only available through ChartHouse Learning. It's packed with powerful, practical questions that guide your team through essential conversations.
20 "Who Are You Being?" Wristbands, the perfect takeaway to remind each team member of their daily commitment.
20 FISH! pens. Displaying a new FISH! practice with each click, it is a colorful way to take note of your choices.
Sold separately, these tools cost over $600, but with the FISH! Book Study Kit you'll receive them all for $445.
Fish! the book is a wonderful gift to:
Help new employees understand your culture.
Recharge teams that have already gone through FISH! training.
Inspire executives and managers to lead by example.
Start a book club.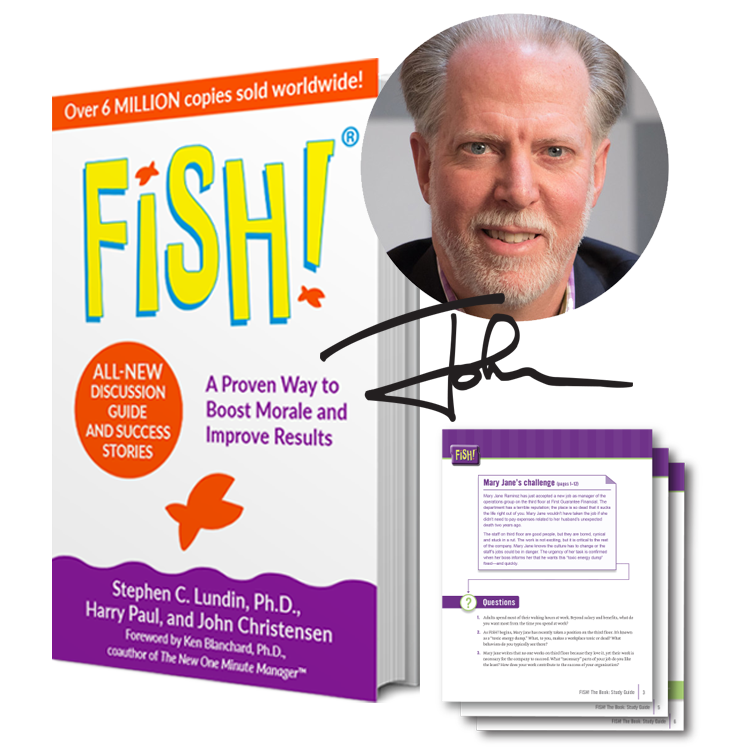 Order your copy today!
For a limited time only, order your copy of FISH! and receive:
1 FISH! book signed by author John Christensen
1 Digital Study Guide to take your experience deeper (a $15 value)
FREE Shipping!*
*Free shipping via US Mail on 20 books or less.
Not valid with other products. No coupon code necessary.
Download a FREE Sample of FISH! the Book