Choose Your Attitude – 4 Steps to Ditch the Drama
Need a Choose Your Attitude boost? Check out these 4 simple steps and 5 favorite quotes via Deena Ebbert aka Propellergirl.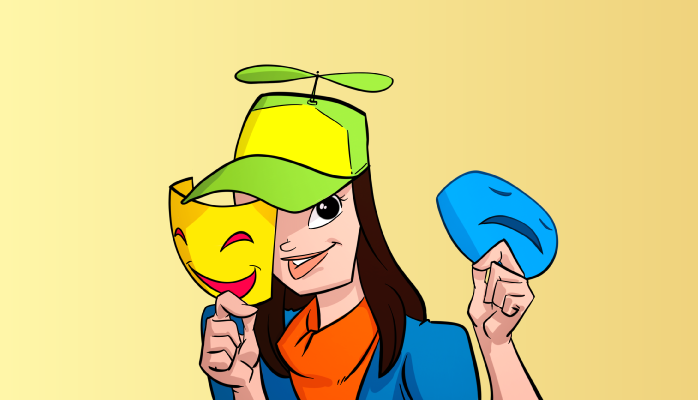 Attitude is adhesive; the choices we make regarding our state of mind invariably impact those around us.  There are days we wake in a rush, haphazardly slap on some attitude, and hustle out the door.  Perhaps we've chosen hurried, indifferent, skeptical, defeated.  Drama ensues, things go awry and take more time that we have.  We limp home late, exhausted.
Imagine instead what would happen had we intentionally selected ready, interested, optimistic, successful.  Interaction is smooth, collaboration high, and we smile at the end of the day, realizing we deserve applause for a job well done.
Sounds easy, until we find ourselves real-life center-stage, balancing between comedy and tragedy in the classic battle of growth mindset versus fixed mindset.
[i]  A growth mindset enthusiastically encourages us to embrace challenges as opportunities to improve.  A fixed mindset shakes its head, no no, hopelessly lamenting this is as far as we go.
When folks ask me where I got my "go get 'em" attitude, I must confess; I'm hardwired for happy.  Initially, it was hard work.  And it often still is, but worth it.  When I see daunting situations peeking around the corner, I prepare in advance by drafting a list of unbeatable attitudes.  Attentive, useful, resilient, grateful… I'm happy to hang tight to the merry countenance of comedy and toss tragedy away.
You can too.  Here's how:
Compose a Proactive Plan – You know it's coming – the disheartening deadline, the unexpected upset, the inconvenient interaction – so why not prepare? Choose Your Attitude starts in the quiet moments of self-control; the calm before the drama where we know we are fully equipped to make wise choices.  Give yourself permission and pause in the morning to preload a list of potential attitudes that will successfully serve as the day plays out.
Commit to a Compelling Goal – Whether it's contribution to a community effort, standing up as an active corporate citizen, lavishing affection on those most precious to you, or simply taking great care of yourself, dedicating your efforts to a project or a process leads to positive personal and professional growth.
Cultivate a Sense of Curiosity – Avoid the brain freeze associated with negative attitudes by becoming relentlessly curious.  Ask yourself, "If I altered my perspective, what would I see differently?"  Join forces with new people, pool resources, read, discover, stretch, and develop the flexibility that accompanies expansive thinking.
Conjure up the Winning Sensation – Whether recalling a happy memory or predicting a future victory, taking time to positively visualize can clear away the cobwebs. Pause, picture yourself in celebration mode, let out that deep breath of frustration, and breathe in a new outlook.  Essentially, out with the bad attitude, in with the good.
"Choose Your Attitude!"  It's a decision to live on purpose.  And a FISH! Philosophy thing.
In need of an attitude boost? Check out these 5 favorite quotes:
"It is our attitude at the beginning of a difficult task which, more than anything else, will affect its successful outcome." – William James
"If you have it and you know you have it, then you have it. If you have it and don't know you have it, you don't have it. If you don't have it but you think you have it, then you have it." – Jackie Gleason
"The remarkable thing is, we have a choice every day regarding the attitude we will embrace for that day." – Charles R. Swindoll
"If you don't like something, change it. If you can't change it, change your attitude." – Maya Angelou
"Ability is what you're capable of doing. Motivation determines what you do. Attitude determines how well you do it." – Lou Holtz
[i] Psychologist Carol Dweck, author of the book Mindset, tells us "If we judge ourselves as we make mistakes, we are more intimidated than inspired to try again. We ought to celebrate instead the act of curiosity that led us to explore, and then try again."
Art PROPS to Zach Stoppel of Ramen Empire
Share This Story, Choose Your Platform!