"Boy, is your wife going to be happy with you." — A FISH! Philosophy customer service story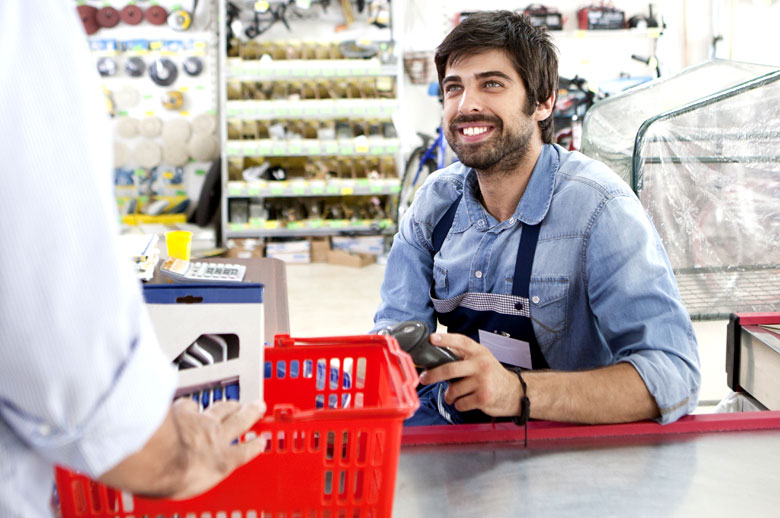 Summer is time for home improvement. One of our colleagues related how one employee used The FISH! Philosophy to turn a routine shopping excursion into a memorable customer service experience:
One Saturday morning, Harry walked into a large home improvement store. He intended to fulfill a long-delayed promise to his wife to put up gutters. Not being much of a handyman, he was nevertheless confident he could get the job done.
Harry asked an employee where the gutters were, but he just pointed toward the far end of the store and kept on walking.  He eventually found the right aisle, but his confidence was replaced by a feeling of intimidation: There were so many gutters and gutter materials that it looked like an Iowa cornrow extending forever.
Overwhelmed, Harry quickly decided to put off the gutter project indefinitely. As he began to walk away, defeated, a friendly voice said, "Sir, it looks like you need a little help."
Harry turned around to see a man in a wheelchair, wearing a bright vest and a big smile, rolling towards him. He reached out his hand and said, "I'm Bill. Is there anything I can do for you?"
Harry told him about the promise to his wife to put up gutters. Bill asked if the paper in Harry's hand had the measurements of the roofline and his eyes lit up when Harry said yes. Bill looked over the sketch and said, "Let's play around with a few ideas."
As they talked, a small group of other would-be gutter put-er-up-ers gathered to hear Bill describe how to put up gutters. Bill acknowledged them but he never lost his focus on Harry. He helped Harry select just the right gutters and all the materials he needed to do the job. Bill even went to another part of the store to get the proper nails so Harry wouldn't have to search for them.
After checking Harry's list a final time to make sure he had everything he needed, Bill looked up at Harry with a twinkle in his eye and said, "Boy, is your wife going to be happy with you."
Harry later recalled, "Because Bill chose to "Be There" for me, he saw the opportunity to playfully and creatively make my day. I have a feeling Bill had created many similar positive customer service experiences, and that those experiences made it easy for him to choose a positive attitude and have more fun at work. Bill showed me how easy it is to live The FISH! Philosophy, and how big a difference that can make to a customer."
Who will you Be There for today?
Share This Story, Choose Your Platform!