A FISH! Tale: This is Where Our Mother Can Live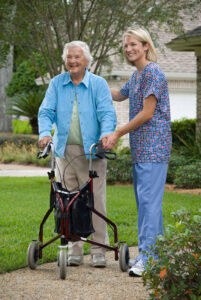 Mary Henderson of Providence Everett Health System tells this story to help nurses see new possibilities in their work through The FISH! Philosophy:
My mother lived to be 100 years old. When she was 92, she still lived in my house. One day, she fell on the stairs and was severely injured. My mother and I realized that she was too frail to live in my house any longer. After she had recovered from her injuries, my mother, my brother and I set out one morning, intent on visiting all the nursing homes and assisted living facilities in our area. Our hope was to find a place for our mother to live in comfort and dignity.
Our search began on a depressing note that only got worse as the day went on. The facilities we visited seemed so impersonal that every time we would leave one of them, I would say to my brother: "There's no way our mother is going to live in a place like this." By late afternoon we were feeling downhearted and exhausted. We almost gave up, but we were committed to visiting every place on our list.
It was so late when we walked into the last nursing home that employees were clearing away the dinner dishes. We stood in the doorway for a moment when one of the food service workers noticed us. She came over and welcomed us with a big smile. When we told her why we were visiting, she took us on a thorough tour of the facility. She even took us into an unoccupied resident room so my mother could get a feel for what the rooms were like.
Then this woman did the most extraordinary thing: She sat on the edge of the bed and told us how and why she came to work at this nursing home. She told us about the great relationships she had developed with the residents and her colleagues. Her stories painted a picture of a warm and caring community. She answered all our questions, putting us at ease, especially my mother.
She walked us to the front door and said good bye. As we walked to our car, I turned to my brother and said: "This is where our mother can live."
It wasn't a marketing or sales person, an administrator or a manager, who helped this family. It was a food service employee who saw the family not as three people interrupting her work, but rather as two loving children who wanted the best for their mother. She stepped outside her job description to Be There and Make Their Day.
How will you step outside of your job description for someone who needs you?
Share This Story, Choose Your Platform!