A FISH! Tale: Eye Lessons with Larry Alexander
From a FISH! Fan, Larry Alexander, OD FAAO: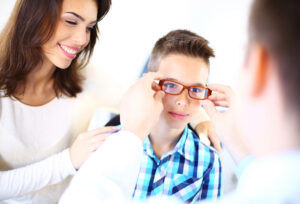 I have been a fan of The FISH! Philosophy for years, applying it successfully in my practice to create an engaging and caring environment for our patients and each other. FISH! first emerged from Pike Place Fish, in Seattle, Washington, when a group of fish mongers chose to act on the following principles in their daily work: (I've been to Pike Place Fish and it's incredibly inspiring to see the fish mongers in action!)
BE THERE – BE PRESENT (IN THE MOMENT) FOR OTHERS SO THEY HAVE YOUR FULL ATTENTION
PLAY – DEMONSTRATE LIGHTHEARTEDNESS AND CREATIVITY 
MAKE THEIR DAY – FOCUS ON LIFTING OTHER'S SPIRITS
CHOOSE YOUR ATTITUDE – WHATEVER YOUR ATTITUDE IS AT THE MOMENT, YOU CHOSE IT 
As an eye care doctor I feel I have been granted a gift – the gift of helping people to see, to minimize vision loss, and to comfort people when they need reassurance. So it was wonderfully ironic when I began to "see" that FISH! was not just for the work place, but that it applied just as powerfully to my personal life. So the question posed by Ronnie (a Pike Place fish monger featured in the FISH! training video,) "Who are you being while you're doing what you're doing?" took on a whole new dimension. Recently what I was "doing" was being a Grandpa, and the following story illustrates how FISH! can influence your choices, your actions, and how you impact others.
Early in November 2012 my wife and I had committed to attending our grandson's 4th grade class, as each student was going to read aloud their compositions. However, on the morning of the composition reading I found myself searching for an excuse for not going. After all, my Grandson's reading would take all of two minutes, and I'd have to sit through all the other kid's readings. I had lots of work to do, and missing two minutes of my Grandson's life couldn't hurt. In the midst of this rationalizing I felt The FISH! Philosophy welling up from deep inside of me. An attitude of accountability took hold and my excuses evaporate. So off we went to my grandson's elementary school. My wife and I sat in tiny chairs near my grandson, who was totally frightened about public speaking. We gently encouraged him and I could tell that he was emboldened by our words and our presence. He straightened in his chair, took off his hoody and mentally prepared himself. When called on, he walked confidently to the front of the class, stood straight, read in a loud and clear voice, and walked back to his seat brimming with self-confidence. The act of overcoming fear and succeeding at this was an important stepping-stone in his life. I was so glad to be there for him and I couldn't have been more proud of him. Thank goodness for FISH!, otherwise I would have missed this priceless experience.
As eye doctors (or grandpas, or teachers, or moms, or friends, etc…,) we have been endowed with divine favor to reach into lives and make them better. When you "see" through the lens of The FISH! Philosophy, this reality is in sharper focus.
I SHALL PASS THIS WAY BUT ONCE. ANY GOOD, THEREFORE, THAT I CAN DO, ANY KINDNESS I CAN SHOW ANY HUMAN BEING LET ME DO IT NOW, FOR I SHALL NOT PASS THIS WAY AGAIN. –Henry Drummond
Larry J Alexander, OD FAAO
Share This Story, Choose Your Platform!